A Conversation with Nick, One Week Marketing Review
A Conversation with Nick, One Week Marketing Review is the heart of the OWM plan.
One Week Marketing was written by Jennifer (Pot Pie Girl) Ledbetter and comes with five modules.
The One Week Marketing Guide Book.
A Conversation with Nick.
The One Week Marketing Action Plan.
The One Week Marketing-Mind Maps.
The One Week Marketing Check List.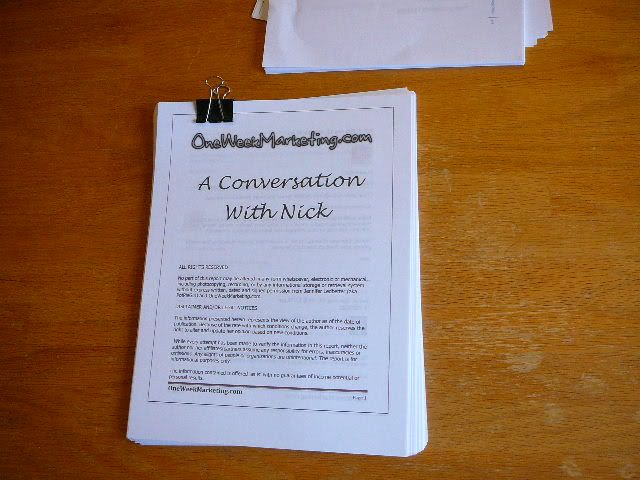 The Conversation with Nick is 169 pages of instant messages that Nick and Jennifer (Pot Pie Girl) traded back and forth while she was coaching Nick through his first successful online project.  This took place in October of 2008.
It is a great banter back and forth and Nick has a lot of good questions.  It is really interesting because if you have ever been working on something and get hung up on something really simple it is really nice to be able to ask.  Nick asked those questions and PPG has answered them for you.  www.1-week-marketing.com is a complet package.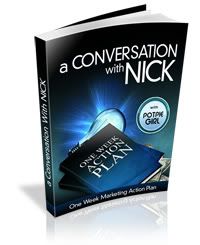 Overview of OWM
Pot Pie Girl gives us her system for using mainly free methods to make a very good living online.  She uses a domain name without a website and free websites like Squidoo, Hubpages, Ezine Articles to promote affiliate products.  This is a unique idea and apparently it works very well.
www.1-week-marketing.com is a complete package.
After a couple of months of letting the promotion age you can go back to your best promotions.  If the promotion goes very well you are set up to go to the next step and build a website around the successful theme.  If you just do OK with the promotion you leave it and build on more ideas.  If the promotion does poorly, you have very little invested except your time.
The answers that Nick received in this conversation were very good.  Pot Pie Girl has a very good handle on the intricasies of this type of promoting and she explains if very well.
Buy One Week Marketing by Pot Pie Girl.
9/1/2009 Update
I have changed my thoughts on this program.  Squidoo has done a revamp of what they will allow on their website.  They have deleted thousands if not hundreds of thousands of web pages.   Almost all of the work I have put into Squidoo was erased.  I believe that Squidoo will be better in the future because of this but since a lot of the strategy with One Week Marketing revolves around Squidoo, I no longer recommend this product.
Thanks, Rick
This is another reason I do not like to spend much of my time building web pages on someone else's web property.  You do not control it or own it, they do.